BOOKS FOR PURCHASE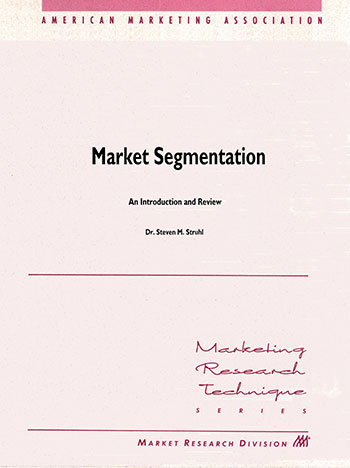 MARKET SEGMENTATION
In Market Segmentation, Dr. Struhl explains this often misunderstood discipline in a clear and easy-to-read style. Part 1 discusses the terminology and basics--and cuts through the jargon that so often can confuse the subject (and the reader). Part 2 explains the steps you need to take in a successful segmentation study, with detailed descriptions of the methods you will encounter, and a step-by-step explanation of how to do segmentation, from preparing the survey to the final deliverables. A practical guide like this is, in our experience, genuinely unique. We promise you that this will be almost entirely free of equations.
Book now back in its fourth printing, revised and updated, available for purchase at
Amazon.com
(direct link to purchase).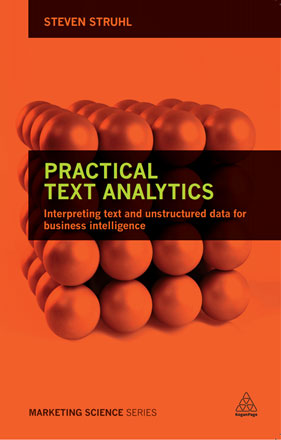 PRACTICAL TEXT ANALYTICS
Practical pointers on using text to predict or todescribe data. This book cuts through the jargonand explains the methods you can use to makesense of unstructured text. This is a book whichcan be used by students striving to learn aboutthis discipline and by professionals who need tomake use of this type of data—or need to dealwith the people trying to sell them solutions.

Available for purchase at Amazon.com (direct link to purchase).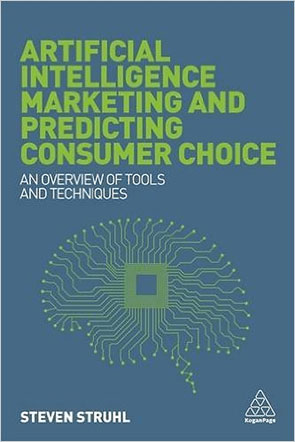 ARTIFICIAL INTELLIGENCE MARKETING AND PREDICTING CONSUMER CHOICE
Learn about the ways that artificial intelligenceand machine learning methods work to enhancepredictive models. Everything is explained in clearlanguage and without recourse to equations oradvanced notation. Many methods are discussed,including Bayes Nets, different ensemble methods, classification trees, and neural networks. We alsoreview old favorites that have been greatly expandedby machine learning, such as conjoint, discrete choice modeling and MaxDiff (or maximum difference scaling).This is a book for professionals who must apply these methods and students who want to learn about them. It Includes several downloadable market simulator programs and two bonus online chapters.


Available for purchase at Amazon.com (direct link to purchase).